Saul Reinaldo Newsome named one of Baton Rouge's Top Forty Under 40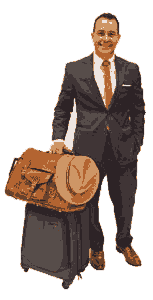 Breazeale, Sachse & Wilson, L.L.P. congratulates Baton Rouge attorney Saul Reinlado Newsome on being named one of the Baton Rouge Business Report's Top Forty Under 40 in Baton Rouge for 2016. To read the full article,
click here.
About Saul Reinaldo Newsome:
Saul Reinaldo practices in the areas of international trade, export controls and sanctions, foreign direct investment, and business transactions. Saul spent a semester studying international business law at the University of los Andes in Bogota, Colombia. During that time, he worked at the law firm Francisco Reyes & Asociados, where he focused on foreign direct investment transactions and international comparative corporate law.
About Top Forty Under 40 Award:
Forty Under 40 celebrates the best and brightest young professionals who have achieved success and excelled in their field. The Business Report looks for those who have demonstrated leadership, initiative and dedication in pursuing their careers and community service, and who are likely to continue to do so. Those recognized include executives, entrepreneurs, politicians, government leaders, nonprofit managers and other professionals.